BN Portion Control Kit - BN Plate, BN Bowl (melamine) WLS Books
includes:


FREE shipping New Zealand wide on orders over $80.
Same-day shipping for all orders placed before 2pm on weekdays.
Portion Perfections for bariatrics by Amanda Clark (Advanced Accredited Practising Dietitian) is low on words and high on visuals, as seeing is understanding. She has included tips about specific foods that can become an issue and advice from those who have had Weight Loss Surgery.
The Australian Healthy Snack Bible is a quick reference guide for how much you should have for the most commonly purchased snacks.
The BN Portion Control Plate features handy markings and visuals, telling you what food needs to go where and how much as part of your bariatric diet.
The BN Portion Control Bowl features cup measurement lines on the bowl sides to pour foods without weighing or measuring them first.
Recommended to hand wash for long-term quality. Dishwasher-safe.
Cleaning should take place promptly and regularly to avoid staining.
Do not use harsh or abrasive cleansers to clean.
Use only soft pads or bristle scrubbers to remove dried food.
Do not use chlorine bleach or chlorine-based products on melamine products.
Melamine is not suitable for microwave heating or serving very high-temperature foods such as fried foods and boiling soups.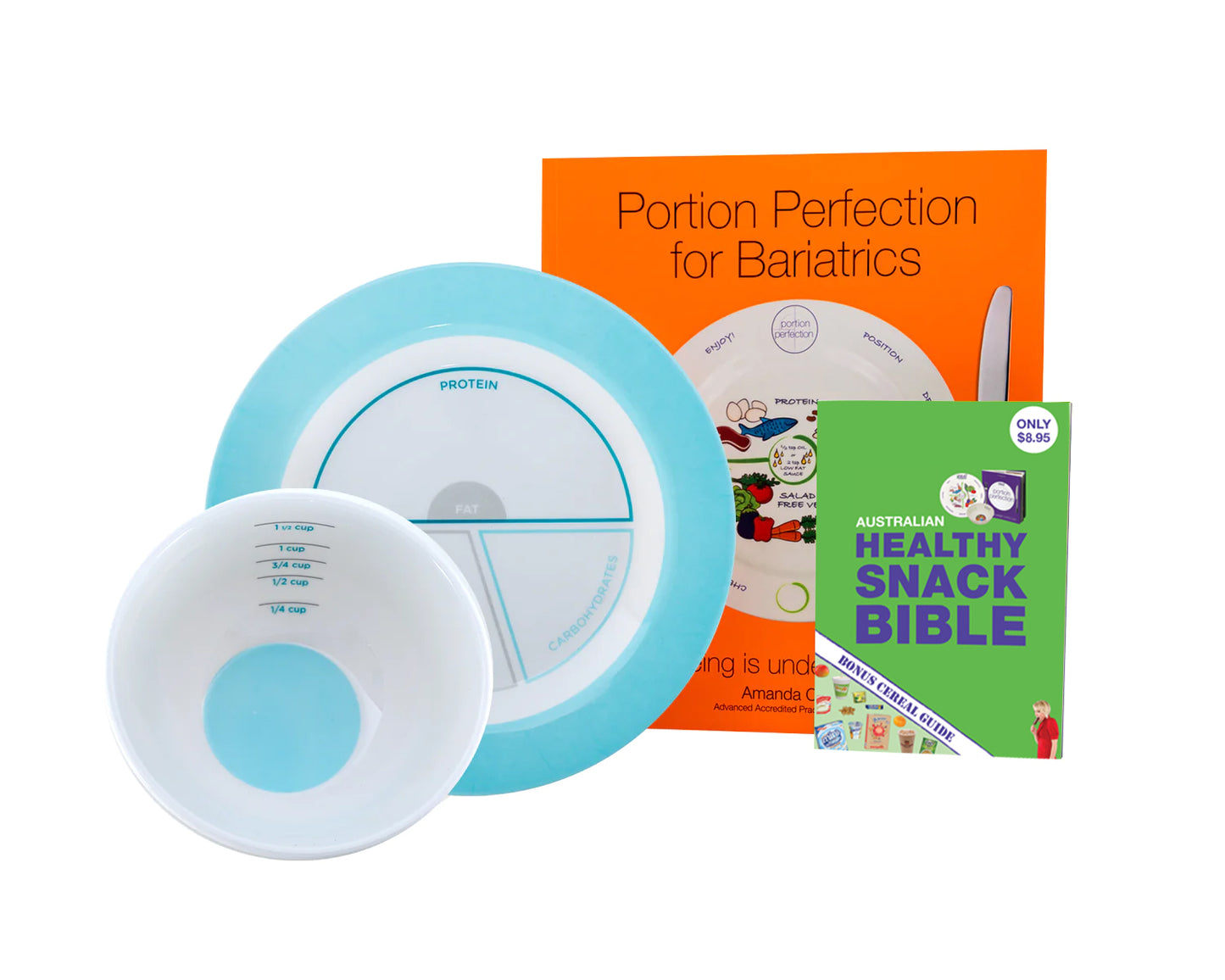 Carefully formulated to target your concerns.
Portion Management
This kit can assist with weight loss or maintenance and improve dietary intake.
Educational
It teaches you to serve and eat the right amount of food and allows you to manage your diet and body weight.
Goal Management
Excellent tools for your new healthy diet, helping you achieve your goals with easy responsibility for portion sizing.
Partnered with a Weight Management Specialist
They are designed to help you manage weight loss and food choices - giving you a clear idea of how much to eat and an easy way to get it right every time.