August 2022
Creamy Golden Milk Smoothie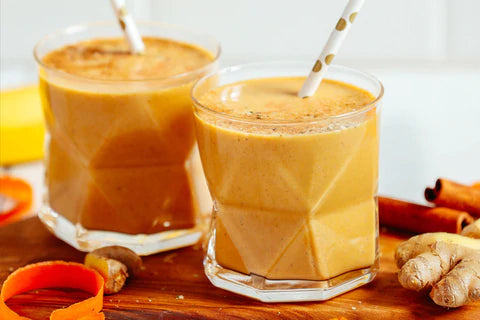 All of the delicious taste and health perks of golden milk in smoothie form! Just 7 ingredients, 1 blender, and 5 minutes required. Creamy, naturally sweet, subtly spiced, and packed with turmeric!
Author: Minimalist Baker
PREP TIME 5 minutes
TOTAL TIME 5 minutes
Servings: 2 (1/2 cup each)
Category: Breakfast, Smoothie
Cuisine: Gluten-Free, Vegan
Freezer Friendly 1 month
Does it keep? Up to 24 hours
Ingredients
SMOOTHIE
1

cup

banana*

(ripe, sliced, and frozen)

1

cup

light coconut milk or almond milk

(use full-fat coconut for creamier smoothie)

1/2

tsp

ground turmeric

powder

1

Tbsp

fresh ginger

(plus more to taste)

1

Dash

ground cinnamon

1

Dash

black pepper

1

Dash

ground nutmeg

1

Dash

ground clove and cardamom

(optional // for more warmth + spice)

1/4

cup

fresh carrot juice*

(optional // for colour, added sweetness + balances banana flavour // or sub 1 small carrot!)
FOR SERVING optional
Method
Add banana, coconut milk, turmeric, ginger, cinnamon, black pepper, and nutmeg to a high-speed blender and blend on high until creamy and smooth. If including, add cardamom, clove, and fresh carrot juice at this time (optional).


If too thick, thin with more coconut milk or water. If too thin, thicken with ice (or more frozen banana, though it will add more sweetness).


Taste and adjust flavour as needed, adding more cinnamon for warmth, black pepper for spice, ginger for "zing," turmeric for earthiness / more intense colour, or banana for sweetness. Adding carrot juice will also add sweetness and more intense orange/yellow hue.


Divide between serving and enjoy immediately. Keep leftovers in the refrigerator for 24 hours. Freeze leftovers by pouring into an ice cube tray and use for future smoothies (either this smoothie or others you'd like to infuse with a golden milk flavour).