August 2022
Indian Spiced Cauliflower Soup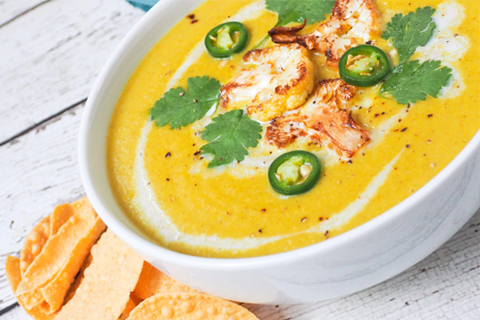 Ingredients
2 teaspoons vegetable oil
1 brown onion, coarsely chopped
2 garlic cloves, crushed
1 tablespoon finely grated ginger
1 large green chilli, seeded, finely chopped
2 tablespoons mild curry paste
1 large cauliflower, cut into florets
1 large potato, peeled, coarsely chopped
1 litre (4 cups) chicken or vegetable stock
250ml light cream for cooking, a cream alternative
6 sprigs curry leaves
2 tablespoons vegetable oil, extra, to shallow fry
Pappadums, to serve
Method
Heat the oil in a large frying pan over medium-high heat. Add the onion, garlic, ginger and chilli and cook, stirring, for 5 minutes or until onion softens. Add the curry paste and cook for 1 minute or until aromatic.


Add the cauliflower, potato and chicken stock and bring to the boil. Reduce heat to low and simmer, stirring occasionally, for 20 minutes or until potato and cauliflower and tender. Remove from heat. Set aside for 5 minutes to cool slightly.


Transfer cauliflower mixture to the jug of a blender and blend until smooth.


Return to saucepan. Place over low heat. Add the cream and stir to combine. Cook for 2 minutes or until heated through. Taste and season with salt and pepper.


Meanwhile, heat extra oil in a small frying pan over medium heat. Add half the curry leaves and cook for 1 minute or until crisp. Transfer to a plate. Repeat with remaining curry leaves.


Ladle soup among serving bowls. Top with curry leaves. Serve immediately with pappadums, if desired.