August 2022
Banana Bread Protein Waffles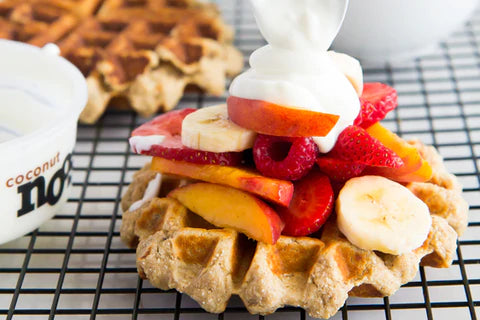 YIELD: SERVES 2 (MAKES 2 WAFFLES)
PREP TIME: 5
COOK TIME: 5
TOTAL TIME: 10
Ingredients
1/2 cup oat flour
1/4 cup vanilla protein powder
1/4 cup coconut flour
1/4 teaspoon cinnamon
Pinch salt
1/2 cup + 2 tablespoons milk
1/2 cup mashed bananas (~2 small bananas or 1 large banana)
1/2 teaspoon vanilla
Topping: Greek yoghurt & strawberries/peaches/blackberries/raspberries/bananas
Method
Preheat waffle maker to a medium setting


In a bowl, combine flour, protein powder, coconut flour, cinnamon and salt (all flour should be spooned into the measuring cup and levelled off...not packed into the measuring cup). Add in milk, mashed bananas and vanilla. Stir just until a batter forms.


Grease the waffle maker REALLY well with non-stick spray. These waffles like to stick so grease it REALLY well. Seriously. Cook the waffles on medium heat until cooked. Top with fruit and yoghurt.


If you open the waffle maker and the top layer pulls apart from the bottom layer, no fear. Just gently use a knife to release the top layer from the waffle maker and put it back onto the bottom of your waffle. It still tastes the same. Next time just put the waffle maker on a lower heat setting and cook the waffle slower and longer.