August 2022
Blueberry High Protein Muffins with Quinoa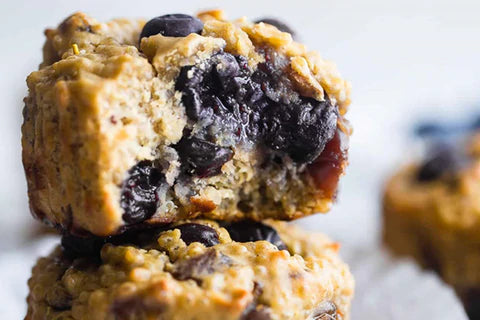 Prep Time 30 minutes
Cook Time 20 minutes
Total Time 30 minutes
Servings 7 Muffins
Calories 176 kcal
Ingredients
1/3Cup Quinoa uncooked
2/3Cup Light coconut milk
2Tbsp Coconut oil
3Tbsp Honey
2Large eggs
1/2tsp Vanilla extract
Pinch of salt
1/2Cup Vanilla Formulite protein powder or similar
1/4Cup Dates, diced and tightly packed (55g)
1/2Cup Fresh blueberries
Method
Preheat your oven to 180 and line a muffin tin with liners.


Combine the uncooked quinoa and coconut milk in a medium pot and bring to a boil over high heat. Once boiling, turn the heat to low and cover the pot. Cook until the milk is absorbed, about 20-25 minutes. Let cool.


In a large, microwave-safe bowl,melt the coconut oil and honey in the microwave until smooth and liquid.


Add in the eggs and beat well. Then, add in the vanilla extract and pinch of salt. Mix until well combined. Add in the cooled quinoa and stir until well mixed.


Place the diced dates in a small bowl and sprinkle with 1 Tbsp of the protein powder and mix around. This will coat the dates, so they don't stick together and all clump together in one muffin.


Add the remaining protein powder, dates and blueberries into the quinoa mixture. Mix well.


Divide the mixture between 7 muffin cavities filling almost full. Bake until the top is golden brown, puffed up and a toothpick inserted in the centre comes out clean and dry, about 17-20 minutes. Let cool in the pan completely.