August 2022
Creamy Stuffed Mushrooms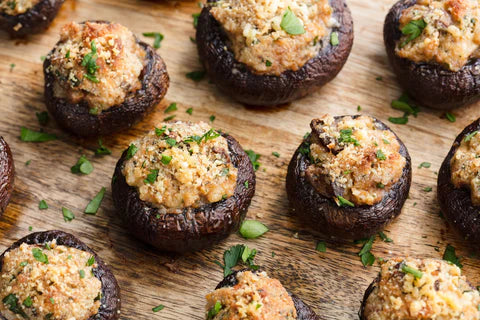 Ingredients
2 scoop BN Fibre
4-6 large field mushrooms, stalks removed
3 cups (600g) ricotta
60 g sun-dried tomatoes, finely chopped
1 tbsp chopped pitted kalamata olives
1/4 cup (20 g) grated parmesan
1 egg lightly beaten

1 scoop of BN Fibre

2 tsp chopped oregano
2 tsp chopped parsley + extra for garnish
Salt & Pepper
Method
Preheat oven to 200°C.


Brush the mushrooms on both sides with olive oil.


Place mushrooms cavity-side up on a baking tray lined with non-stick baking paper.


Combine the ricotta, sun-dried tomatoes, olives, parmesan, oregano, parsley, BN Fibre, egg, salt and pepper in a large bowl.


Divide the ricotta mixture between the mushroom cavities, piling the mixture roughly in the centre.


Bake mushrooms for 15-20 minutes or until topping is golden and mushrooms are tender.


Place on serving plate and sprinkle with extra chopped parsley.


Serve with a green salad or toasted bread.