July 2023
French Cheese Crepes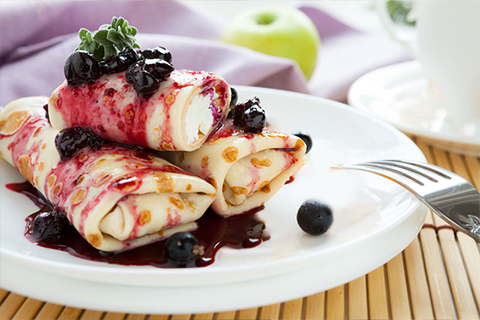 Ingredients
For crepes skin:
2 eggs
¾ cup non-fat milk
1 tbsp olive oil
½ cup flour
For filling:
2 scoops of Tasteless Collagen
¾ cup low-fat small curd cottage cheese, drained
2 tsp stevia
1 tbsp lemon juice
Method
To make crepe skin:
Whisk together all ingredients in a medium bowl. Try to reduce lumps.

Use the crepes maker (follow the manufacturer's instructions) or use a non-stick skillet over medium heat.

Pour batter about 2 tablespoons per crepe into the skillet. Cook the batter for 1 -2 minutes for each side.
To make cottage cheese filling:
Combine all of the ingredients listed for making the filling. Mix well.
To fill and roll the crepes:
Take a layer of the crepe skin. Place about 1- 2 tablespoons of filling in the centre.

Fold the right and left edges toward the centre. Roll the crepe to seal the filling in. Set it aside.

Repeat until all the crepes are filled. You can store the filled crepes in the refrigerator.
To cook the crepes:
Cover the pan with one teaspoon of oil or butter over medium-high heat.

Add crepe(s). Cook until brown and crispy for about 2 minutes per side.