August 2022
Meatloaf Cupcakes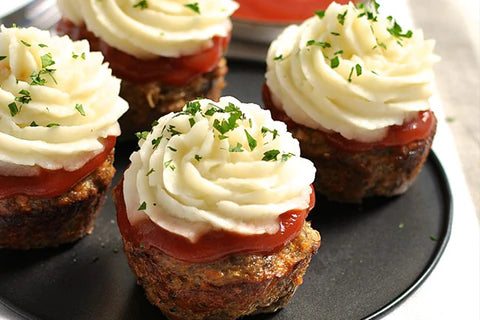 Ingredients
500g 93% lean ground turkey
1 cup grated zucchini, all moisture squeezed dry with paper towel
2 tbsp onion, minced
1/2 cup seasoned breadcrumbs
1/4 cup tomato sauce
1 egg
1 tsp sea salt
For the Mashed Potato top
2 med potatoes (I use the purple ones as they have some great nutrients in the peel) cubed. You can peel them or leave the skin on.
2 large garlic cloves, peeled and halved
2 tbsp low fat sour cream
2 tbsp chicken broth
1 tbsp skim milk
1/2 tbsp light butter
sea salt to taste
dash of fresh ground pepper
2 tbsp fresh thyme
Method
Put the potatoes and garlic in a large pot with salt and enough water to cover; bring to a boil.


Cover and reduce heat; simmer for 20 minutes or until potatoes are tender.


Drain and return potatoes and garlic to pan. Add sour cream and remaining ingredients.


Using a masher or blender, mash until smooth.


Season with salt and pepper to taste.


Meanwhile, preheat the oven to 180°C.


Line a muffin tin with foil liners.


In a large bowl, mix the turkey, zucchini, onion, breadcrumbs, ketchup, egg, and salt.


Place meatloaf mixture into muffin tins filling them to the top, making sure they are flat at the top.


Bake uncovered for 18-20 minutes or until cooked through.


Remove from tins and place onto a baking dish.


Pipe the "frosting" onto the meatloaf cupcakes and serve.
NUTRITION INFORMATION PER CUPCAKE:
120 calories
12.25 g carbs
4.25 g fat
9 g protein