August 2022
Overnight Oats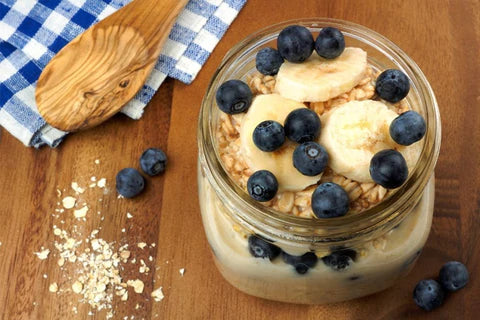 Ingredients
250 ml (1 cup) thick Greek-style yoghurt or coconut yoghurt, if dairy-free
50 g (1/2 cup) organic rolled oats
1/2 tablespoon Organic Superfood
1 red apple, grated
1/2 teaspoon vanilla extract
2 teaspoons fresh grated ginger
60 g (1/2 cup) organic raspberries (fresh or frozen) see notes
1/4 cup fresh grated beetroot (optional) Juice from 1/2 lime plus a splash of water
Add fresh berries and mint to serve
The night before:
Combine yoghurt, oats, Organic Superfood, apple, vanilla and 1 teaspoon of the freshly grated ginger into a glass or ceramic bowl.
Cover and allow to sit in the fridge overnight to develop and the oats soften. Make the berry puree and blend the rest of the ginger, raspberries, beetroot, lime and a splash of water.
In the morning:
Fold through a little of the berry puree through the oats then divide into serving bowls.
Garnish with more berry puree and extra yoghurt. Add fresh mint or extra berries to serve.
Notes and Inspirations
This is a magnificent healthy breakfast that keeps well for 2 - 3 days in the fridge. Use 1 teaspoon Healthy Chef Green Smoothie in place of Organic Superfood, Make oats in individual glass jars. Use blueberries, lemon and chia in place of raspberries and beetroot.