August 2022
Sweet Potato Hash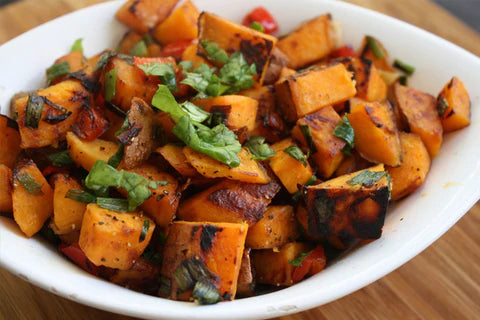 Serves 4
Ingredients
2 sweet potatoes, cut into chunks, skin on
2 cobs of corn, husked with kernels removed
2 handfuls baby spinach leaves
1 bunch of Kale washed and shredded
1 small onion, finely diced
small bunch of parsley, chopped
3 tablespoons olive oil
6 sprigs fresh thyme
3 bay leaves
1 small sprig rosemary
pepper and sea salt
Method
Boil the sweet potatoes in a pot of water seasoned with 1 teaspoon of salt.


Simmer for about 10 - 15 minutes or until the sweet potatoes are just tender - don't overcook.


Drain the sweet potato and set aside.


Heat the olive oil in a large cast-iron pan over medium heat.


Add the diced onion, thyme leaves, bay leaves and rosemary and cook for 1 minute.


Add the sweet potatoes and cook without stirring for 3 minutes or until they begin to brown underneath.


Stir occasionally to brown sweet potato all over, so it's lovely and crisp.


Add the kale and sweet corn kernels and cook for another 5 minutes until hot.


Fold in the baby spinach leaves, salt, pepper and parsley.


Serve in the pan and enjoy alone or with poached organic eggs.