August 2022
Turmeric Fish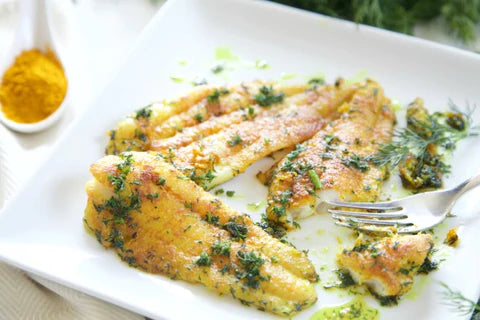 Ingredients
2 x 200 g pieces white fish fillets (wild snapper or any white fish of your choice)
1/4 cup water or coconut water (if braising)
1 lime
1 bunch coriander - leaves and stalk finally chopped
generous pinch of ground black pepper
1 tbsp tamari soy sauce
2 cloves garlic, smashed
1 tbsp grated fresh galangal or ginger
1 tablespoon turmeric, grated
2 tbsp. olive oil
Method
Combine ginger, turmeric, garlic, tamari, lime juice and olive oil in a bowl. For a smoother paste, I love using my mortar which combines the ingredients perfectly.


Fold in the finely chopped coriander root.


Add the fish fillet and coat well.


Wrap the fish individually using baking paper, foil or banana leaf. Make sure it is really well sealed into a lovely neat little pocket.


Steam the fish for 10 minutes until cooked through and remove from the heat.


Serve immediately with your choice salad or vegetables.


Vegetarians can use organic silken tofu or tempeh in place of the fish.