August 2022
Wild Mushroom hot pot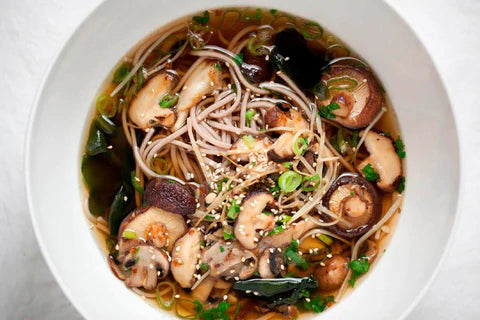 This Wild Mushroom Hotpot is the perfect wholesome and nourishing comfort food to revitalise the body and promote good health. Serve in generous bowls and instantly feel the healing benefits.
Ingredients
Serves 8
1.2 kg organic chicken carcass
6 litres water
½ teaspoon flaked sea salt
1 onion, cut in half and gently charred in a hot dry pan
300 g carrots
Slice of fresh ginger, thinly sliced
100 g celery
250 g 100% gluten-free buckwheat soba noodle
1 tablespoon tamari soy sauce
1 tablespoon mirin
1 tablespoon dried wakame, rehydrated
1 teaspoon roasted sesame seeds
Shichimi togarashi (accompaniment)
MUSHROOM MIX
1 tablespoon olive oil
600 g (Swiss brown mushrooms, sliced and whole
100 g maitake or oyster mushrooms
100 g enoki mushrooms
30 g shiitake mushrooms
1 tablespoon butter
¼ teaspoon flaked sea salt
3 spring onions, sliced
Small bunch of coriander (cilantro) leaves, to garnish
Method
PLACE chicken carcass in a stockpot with the water.
ADD sea salt, onion, carrot and celery.
SIMMER partially covered over a low heat for 5 hours, skimming the broth regularly to remove any surface fat and scum.
STRAIN the stock through a fine muslin.
REFRIGERATE overnight and remove all the excess fat that solidifies over the top.
COOK buckwheat noodles until al dente and cool under cold running water until needed.
HEAT the chicken stock and add tamari and mirin.
HEAT olive oil in a separate pan and saute the mushrooms until golden. Add sea salt, spring onion and coriander then beurre monté with butter at the end.
REFRESH one portion of cooked noodles in simmering water, drain and place into a serving bowl.
POUR stock over noodles. Add wakame and mushrooms.
GARNISH with roasted sesame seeds and serve with shichimi togarashi on the side.
NOTES AND INSPIRATION
This should be served as a main course meal in large bowls.
For vegetarian option, use homemade vegetable stock in place of chicken stock.