August 2022
Chickpea blondies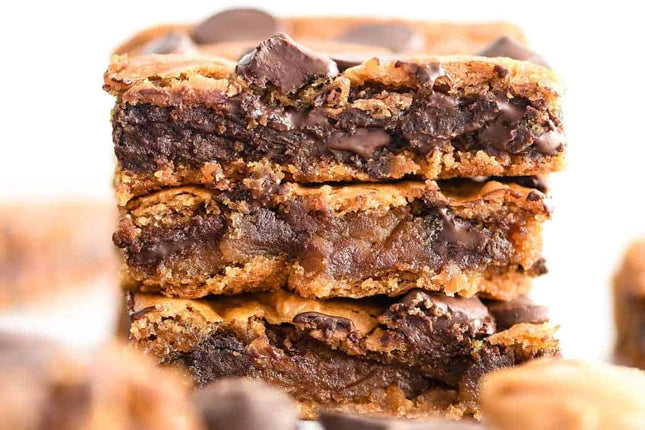 Ingredients
1 can chickpeas, also may be found as garbanzo beans
1/2 cup all natural peanut butter
1/3 cup honey
2 tsp vanilla
1/2 tsp salt
1/4 tsp baking powder
1/4 tsp baking soda
1/4 tsp ground cinnamon
1/3 cup dark chocolate chips, plus 1 Tbsp, reserve for top
1 Tbsp unsweetened coconut flakes, reserve for sprinkling
Method
Preheat oven to 180 degrees Celsius


Spritz an 8×8 pan with oil in a spray container.


Rinse chickpeas and place in food processor. If using a blender, after rinsing chickpeas, remove their skin before placing in the blender by pinching the chick pea between your fingers. The skin will easily fall off and will take about five extra minutes and will ensure a very smooth blended product.


Combine all ingredients except the chocolate chips and unsweetened coconut flakes in a food processor and blend until completely mixed.


Fold in 1/3 cup dark chocolate chips.


Spread batter evenly in pan, top with reserved 1 Tbsp of chocolate chips


Bake for approximately 18 – 20 minutes. This will vary depending on your oven. You do not want to overcook these so check on them to see if they are ready sooner in your oven. They should be moist and a little brown around the edges. Insert a toothpick, if it comes out clean they are done. Cool pan on a wire rack until pan is cool to touch, sprinkle with unsweetened coconut flakes.


Cut into squares. Makes 32 baby sized blondies


Delicious immediately or cool in refrigerator for a delicious cold treat. If you prefer them to be more firm, simply allowing them to cool in the fridge.
Nutrition Facts
Per 2 baby sized Serving: 123 Calories, 6 g Fat, 2 g Saturated Fat, 0 mg Cholesterol, 35 mg Sodium, 15 g Carbohydrate, 2 g Fiber, 8 g Sugar, 3 g Protein