August 2022
Greek quinoa beef meatballs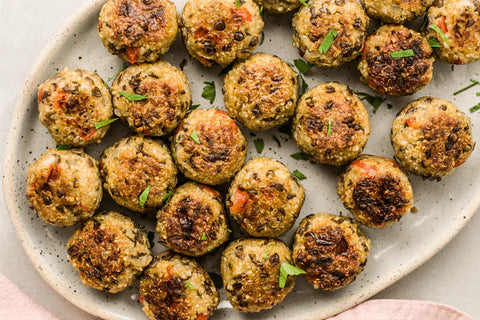 Ingredients
1/2 1/2 red capsicum, membranes removed and sliced into strips
1/2 cup shredded carrot
2 cloves garlic
2 Tbsp fresh parsley leaves
2 Tbsp fresh oregano leaves
1 cup cooked and cooled quinoa (from approximately ½ cup dry)
500g extra-lean beef mince
250g turkey/chicken sausage, casings removed
1/2 tsp sea salt
1/4 tsp freshly ground black pepper
16 iceberg lettuce leaves
½ cup feta cheese crumbles
dressing of choice
Method
Preheat the oven to 180 degrees C . Line a large baking sheet with paper and set aside.


Combine red capsicum, carrot, garlic, parsley and oregano in container of a food processor fitted with a metal blade. Cover and process until coarsely chopped.


Combine chopped mixture with cooked quinoa, ground beef, turkey / chicken sausage, cheese, salt and pepper in a medium bowl. Using hands or a melon-baller, shape into 32 balls and transfer to the prepared baking sheet.


Bake at 180 degrees C for 15 to 18 minutes or until cooked through and golden brown.


To serve as lettuce wraps, add a dollop of dressing to the centre of each lettuce
leaf. Top with two cooked meatballs. Repeat assembly steps for remaining wraps.