August 2022
Halloween Stuffed Capsicum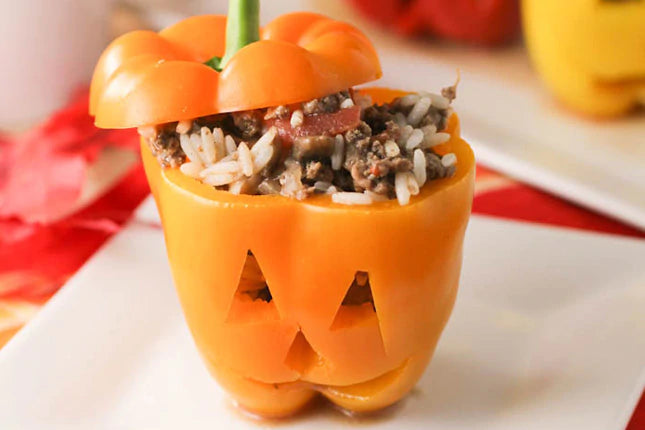 Ingredients
1 ½ cups cooked brown rice
4 medium capsicums
500g grass-fed minced beef
1 cup chopped onion
½ cup chopped fresh parsley
1 teaspoon paprika
½ teaspoon salt
⅛ teaspoon ground allspice
1 cup passata
½ cup grated fresh Parmesan cheese
2tbsp NUTRA ORGANICS chicken bone broth powder in 1 cup water
Method
Preheat oven to 180 degrees


Wash the peppers. Cut jack-o'-lantern faces into the capsicums with a sharp paring knife, making triangle eyes and nose, and pointy-teeth smiles. Slice off the tops of the capsicums and scoop out the seeds and cores.


Heat a large nonstick frying pan over medium-high heat. Add beef and the next 5 ingredients (beef through allspice); cook 4 minutes or until beef is lightly browned, stirring to crumble. Remove from heat. Add rice, ½ cup pasta sauce, and cheese to beef mixture, stirring to combine.


While beef cooks, combine ½ cup pasta sauce and chicken broth in a small saucepan; bring to a boil.


Spoon about ¾ cup beef mixture into each capsicums. Place capsicums in an 8cup baking dish coated with cooking spray; add chicken broth/sauce mixture to pan. Cover with foil and bake for about 35–40 minutes. Uncover; bake an additional 5 minutes.