August 2022
Pork and black bean nourish bowl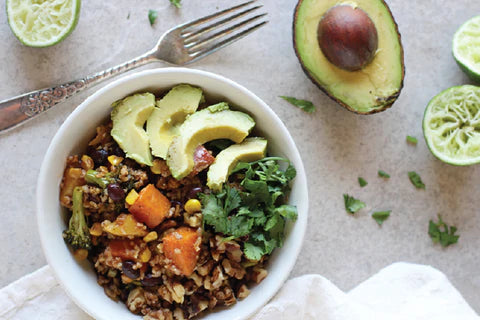 Ingredients
500g pork mince
1 Red onion
1 tsp smoked Paprika
1.5 tsp Cumin
1tsp coriander ground
1 lime
1 green chilly seeded
1-2 tbsp Nutra Organics Bone Broth Powder
100g dry Brown rice
250g Pumpkin skinned and cubed
1 tin black beans
1 avocado ripe
1 tbsp olive oil
1 lime (finely grated peel)
1 tsp red wine vinegar
Method
Cook rice. Bring 1.5L (6 cups) water to the boil in a large saucepan. Add 100g rice and cook for 20 mins until partially cooked.
Prepare ingredients. Chop the onion. Crush or finely chop the garlic. Finely chop the chilli, discarding the seeds if less heat is desired. Peel and cut the pumpkin into 1.5cm chunks. Rinse and drain the black beans. Place 2 tbsp Nutra Organics Bone Broth Powder into a heatproof jug, add 400ml boiling water and stir to dissolve.
Start pork and bean sauce. Heat 1½ tbs olive oil in a large frypan over medium heat. Add half the onion and half the chilly, season with salt and pepper and cook for 3-4 mins until softened. Increase heat to high. Cook pork mince, breaking up lumps, for 3-4 mins until browned. Add garlic, smoked paprika and 1.5 tsp cumin and 1tsp coriander and cook for 1 min or until fragrant.
Add beans. Add the stock, bring to a simmer and cook for 4-5 mins until the sauce is thickened. Stir in the black beans and 1 tsp red wine vinegar. Taste, then season with salt and pepper.
Cook pumpkin. Meanwhile, add the pumpkin to the rice and cook for a further 6 mins or until the pumpkin and rice are tender. Drain, cover with a clean tea towel and set aside to steam dry. Meanwhile, finely grate the zest of half the lime, then juice the half. Cut the remaining lime into wedges.


Get ready to serve. Cut the avocado flesh into 1cm chunks. Put the avocado, remaining onion, remaining chilly, lime zest and 3 tsp lime juice in a bowl, season with salt and pepper and toss to combine. Divide the pumpkin and rice mixture and pork and bean sauce among bowls. Spoon over the avocado salsa and serve with the lime wedges.