August 2022
Seafood Paella with Spring Vegetables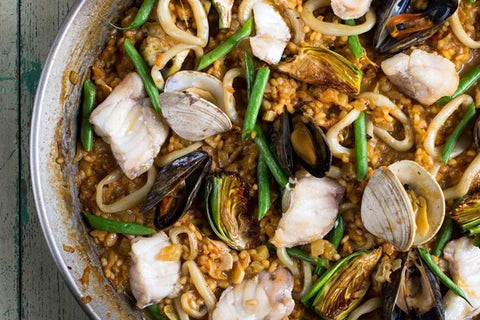 Ingredients
6 tablespoons extra-virgin olive oil, divided

2 cups diced onion

1 cup diced fennel

3 medium tomatoes, grated on the large holes of a box grater (skins discarded)

4 cloves garlic, thinly sliced

2 tablespoons white-wine vinegar

1 teaspoon sea salt, divided

½ teaspoon ground pepper

½ teaspoon crushed red pepper
Pinch of saffron

1 large fresh artichoke

1 cup Calasparra rice or other paella rice

2 cups seafood stock

1 cup green beans, trimmed and cut into 2-inch pieces

4 ounces squid bodies, sliced into rings

6-12 clams and/or mussels, scrubbed

8 ounces skinned monkfish or cod, cut into 1-inch-thick pieces
Method
Heat 3 tablespoons oil in a 13- to 14-inch paella pan over medium-high heat. Add onion and fennel; cook, stirring often, until the onion is translucent, about 5 minutes. Add tomatoes, garlic, vinegar, ½ teaspoon salt, pepper, crushed red pepper and saffron. Reduce heat to maintain a simmer and cook, stirring occasionally, until the tomato liquid has evaporated, 20 to 25 minutes.


Meanwhile, clean artichoke. Cut lengthwise into 6 wedges. Heat 2 tablespoons oil in a large skillet over medium heat until very hot but not smoking. Add the artichoke wedges; sprinkle with ⅛ teaspoon salt and cook until browned, about 2 minutes per side. Transfer to a plate.


Preheat oven to 200°C.


When the tomato liquid has evaporated, add rice to the paella pan, increase heat to medium and cook, stirring, for 2 minutes. Add stock. Turn on a second burner so both the front and rear burner on one side of the stove are on; bring to a boil over high heat.


Spread the rice evenly in the pan and nestle the artichokes and beans into it. Reduce heat to maintain a low simmer and cook for 10 minutes, rotating and shifting the pan around the burners periodically to help the rice cook evenly. Season squid with ⅛ teaspoon salt and place on the rice. Cook, without stirring but continuing to rotate the pan, for 5 minutes more.


Nestle clams and/or mussels into the rice with the open edges facing up. Season fish with the remaining ¼ teaspoon salt and place on top of the rice. Remove the paella from the heat and very carefully cover the pan with foil.



Transfer the pan to the oven and bake for 10 minutes. Let stand, covered, for 10 minutes before serving.
Equipment: 13- to 14-inch paella pan
Tips: Monkfish is known for its huge mouth and teeth, but only the tail is edible. It's sometimes called "poor man's lobster" for its similarity in taste and texture. Look for sustainably caught monkfish from the U.S. Atlantic.
To prep a fresh artichoke: 1. Trim ½ to 1 inch from the stem end. Peel the stem with a vegetable peeler. 2. Trim ½ inch off the top. 3. Remove the small, tough outer leaves from the stem end and snip all spiky tips from remaining outer leaves using kitchen shears. 4. Cut in half lengthwise and scoop out the fuzzy choke with a melon baller or grapefruit spoon. Keep artichokes from browning by rubbing the cut edges with a lemon half or putting them in a large bowl of ice water with lemon juice.