August 2022
Spring chicken with braised lettuce and peas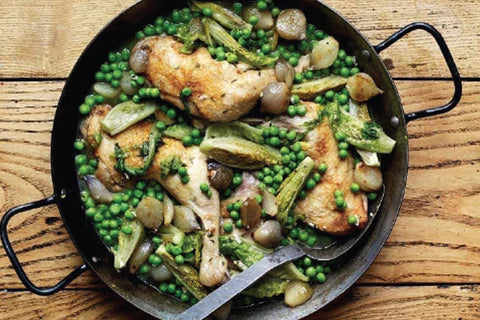 Ingredients
8 chicken thighs, skin on, bone in
2 sprigs of thyme
Olive oil
8 spring onions, sliced
2 garlic cloves, peeled and sliced
30ml dry sherry (optional)
650ml hot chicken stock
A knob of butter
4 little gem lettuces, halved lengthways
250g fresh peas (or frozen, defrosted)
A squeeze of lemon juice
Crusty bread, to serve
Method
Rub the chicken with the thyme sprigs, a glug of oil, and seasoning.


Heat a large casserole dish over a high heat and sear the chicken thighs, skin-side down, for 5 minutes, until they're lovely and golden.


Turn them over, reduce the heat to medium, then add the spring onion and garlic. Sauté for 5 minutes, then add the sherry and cook for 1 minute.


Pour the hot chicken stock into the dish, bring to a simmer, then cover and cook for 30 minutes, until the chicken is cooked and tender.
How to make chicken stock
Stir in the butter, baby gems and peas, and continue to simmer for 10 minutes until soft. Add the lemon juice and season. Divide between bowls, and serve with bread.