August 2022
Strawberry Rhubarb Protein Crisp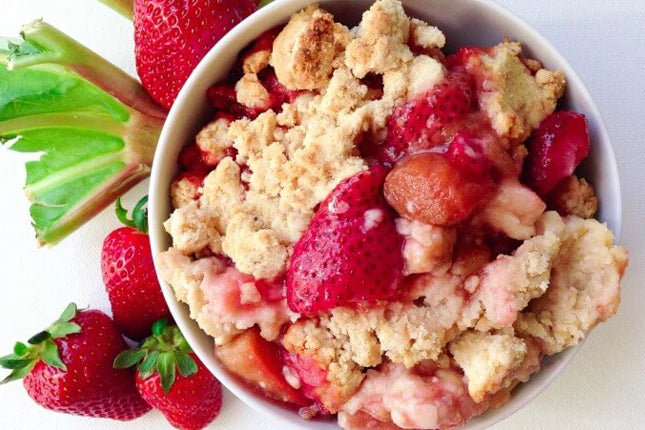 Makes 6 servings
Ingredients
2 scoop BN Pure Pro
1 1/2 cups fresh strawberries, sliced
1 1/2 cups fresh rhubarb, chopped
1/4 cup stevia or sweetener of choice*
2 tbsp. lemon juice optional
1 cup rolled oats or almond flour
3/4 cup gluten-free baking flour or standard flour
1/4 cup brown sugar or coconut sugar
1/4 tsp. ground cinnamon
1/4 tsp. baking soda
6 tbsp. butter or ghee*
*optional
Method
Preheat oven to 180C


Add strawberries, rhubarb, sweetener, and lemon juice to a large bowl and toss to combine.


Gradually sprinkle in your BN Pure Pro while mixing to prevent clumps. Don't worry if the mixture seems a little gummy; it won't be after cooking.


In a separate bowl, combine remaining ingredients until crumble forms. Add 1-2 teaspoons of water if clumps seem too dry.


Lightly coat a casserole dish with buttery spread or cooking spray.


Cover the bottom of the dish with half the crumble mixture and press down evenly.


Pour the rhubarb mixture over the top of the crumble base.


Spread remaining crumble over the top.


Bake for 40-45 minutes until golden brown and bubbly on top.



Cool for 15-20 minutes before cutting into six equal pieces and serving. Leftovers will keep in the fridge in an airtight container for up to one week.