BN Collagen
100% NATURAL COLLAGEN
Nourishes healthy hair, skin and nails
SOURCE OF PROTEIN
Aid recovery and digestive health
ZERO TASTE & SMELL
It tastes like water - totally undetectable with added benefits.
FREE shipping New Zealand wide on orders over $80.
Same-day shipping for all orders placed before 2pm on weekdays.
Are you looking to support your hair, skin and nails with 100% Natural collagen? BN Collagen is carefully designed with you in mind.
Collagen is the most prevalent protein in the body. It is required for muscle growth and various health benefits such as tissue healing, bone strength, skin elasticity and cell reproduction. Collagen is a component of forming healthy tendons and ligaments, which play an essential function in healthy joints.
Packed in New Zealand - BN Collagen Protein Powder:
Aid recovery
Improved strength of the connective tissues
Less joint stiffness and soreness
Nourishing-looking skin
Stronger hair and nails
Form healthy muscle building
Improved digestive health
So if you want to reap the benefits, you'll want a protein powder with collagen.
It is made with hydrolysed bioactive collagen peptides, quickly absorbed by the body and does not lose nutrients during digestion compared to other products.
What's unique about BN Collagen:
Zero taste or smell
100% pure natural collagen powder
Rapid absorption
Smooth mixing blend
Free of fat, cholesterol, sugar and carbohydrates
Naturally gluten free and lactose free
No colours or flavours
13.5g of collagen protein per serve
BN Collagen Protein can be added to various delicious food and drinks like your coffee or smoothie, as an easy way to add collagen to your day. There are endless ways to use this collagen powder, and it's a must-have product to reap all the collagen benefits.
When you take natural collagen with your nutritious diet, exercise and vitamin regime, you give your body the best support for your radiance to shine. Your body deserves the best, and this no flavour protein powder will provide it.
---
What is collagen? And why is collagen essential?
Collagen is the most prevalent protein in the body, accounting for around 30% of total protein. Unsurprisingly, it's such a crucial element of your body; it provides strength and stiffness to your connective tissues, including your gorgeous hair, skin, and nails.
It also keeps your joints healthy, allowing you to live a long and active life. Collagen peptides in natural protein are easily digestible and immediately available for your body, ensuring you benefit from each serving.
---
Collagen after Weight Loss Surgery
Several papers have been written about the benefits of collagen supplements in maintaining joint health, healthy hair, glowing skin, and nail strength, all of which are significant concerns for metabolic and bariatric surgery patients during their weight loss journey.
Utilising collagen supplements for metabolic and bariatric surgery patients may aid in the body's natural collagen creation.
---
What are the different types of collagen?
While there are 28 distinct forms of collagen, your body primarily consists of types I, II, and III.
Type I - is present in tendons, bones, ligaments, teeth, and some connective tissues in addition to the skin.
Type II - is present in the eyes and forms cartilage.
Type II - is found in the skin, muscles, and blood vessels.
Packed in New Zealand, from imported ingredients, using bovine collagen and produced in a facility that produces dairy, egg and soy, and may contain traces of these allergens.
Add 1 scoop (15g) to 300ml of cold or hot liquids and mix for 15 to 30 seconds. Add it to any beverage to juices, coffee, smoothies; it can be added to foods such as soups, yoghurt - only limited by your imagination!
Allow the powder to dissolve for 2 minutes.
Consume product once daily or as direct under medical advice.
Collagen protein is not a meal replacement. This is a supplementary product only and should not replace a balanced diet.
If any health symptoms exist, please seek medical or dietetic advice to ensure this product is suitable for you.
Formulated supplementary sports food.
Not suitable for children under 15 years of age or pregnant women: should only be used under medical or dietetic supervision.
Store in an airtight container in a cool dark place.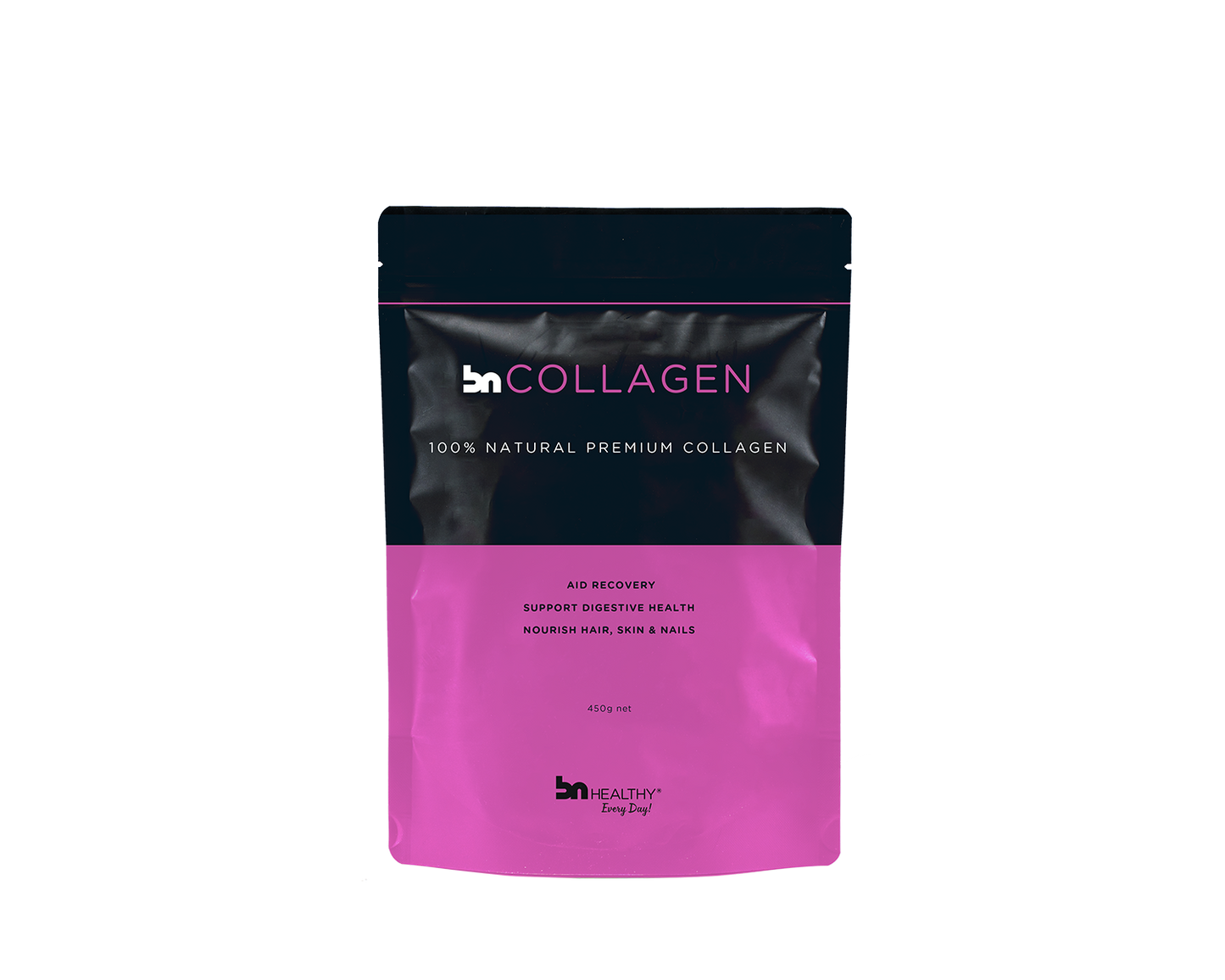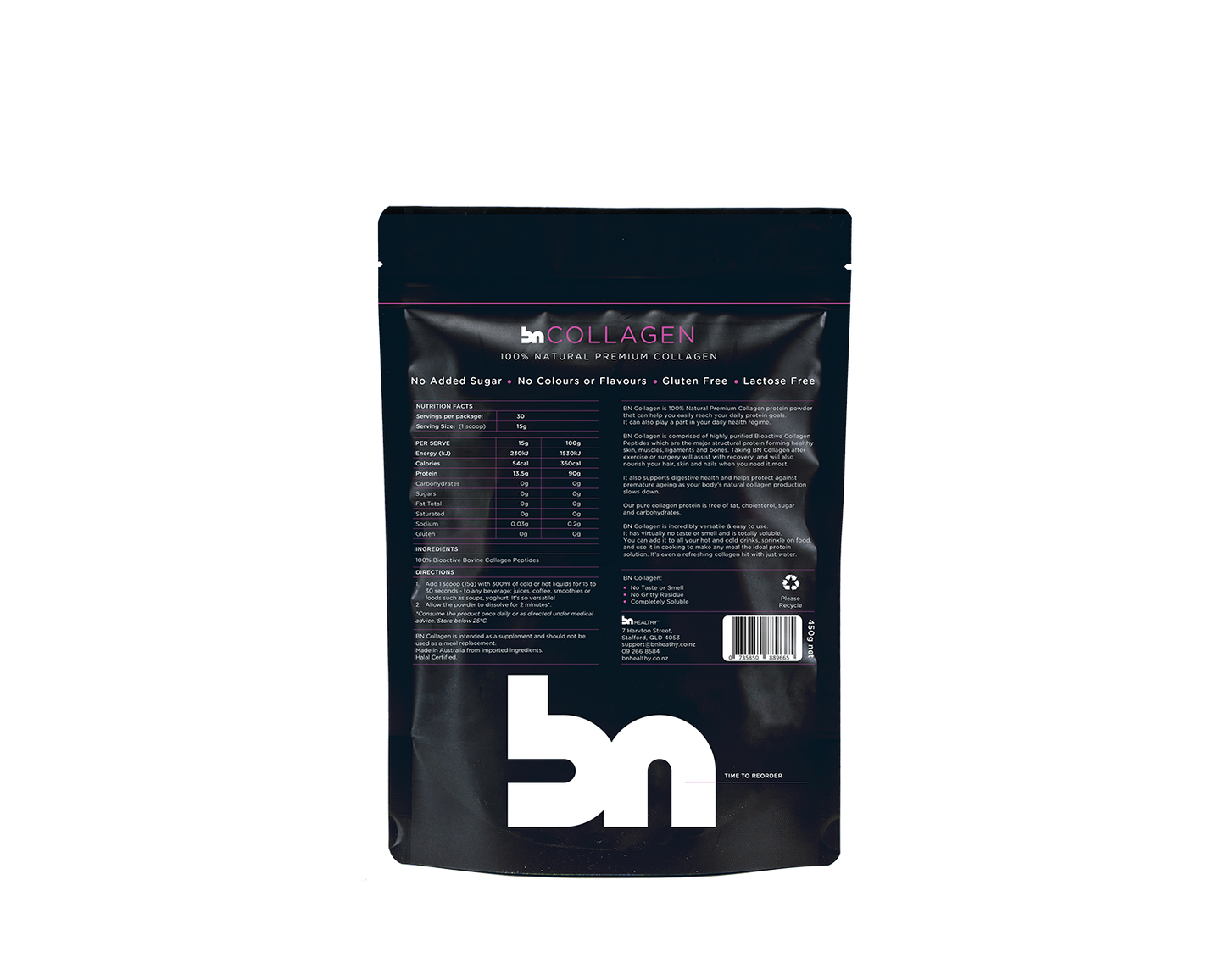 Carefully formulated to target your concerns.
Promotes Healthy, Youthful Skin
Increasing collagen intake can help keep your skin smooth and hydrated.
Strengthens Joints & Bones
Collagen increases bone flexibility, replenishes wear and tear of joints and may reduce joint inflammation.
Promotes Healthy Hair & Strong Nails
Collagen can help keep and maintain the hair healthy and improve the thickness and strength of nails.
Frequently Asked Questions
Our Qualified Nutritionists are here to help you make the best choice when it comes to you and your health.
Collagen is the highest abundant protein in the body. Collagen provides the structure for skin, bone, teeth, ligaments and cartilage.
BN Collagen is 100% no taste or smell.
BN Collagen can be mixed in with any drink you have and even stirred into foods such as pancakes. Many Weight Loss Surgery patients like to have their collagen in their morning coffee.
Collagen powder can be taken at any time; as long as you take collagen every day, you will see the benefits unfold.
Collagen production begins to slow down as we get older; supplementing with collagen can severely improve many everyday functions and help restore overall health.